About House 110 Chantabouly District Vientiane

House 110 Vat Chan Street was built in 1915 making it one of the oldest houses in Vientiane. Extensions of the original building were made in the 1930s, 1950s and 1970s. The five segments of the building extend almost 40 meters, making the upstairs certainly the longest apartment in the city!
Particular restoration problems included finding clay tiles to redo the roof, a persistent leak between the original building and one of the extensions where the builder did not tie the two roof sections together properly, and problems with moving the huge volume of rain runoff away from the building.
House 110 took about two years to finish because AHL was just learning how to do things. We repaired the walls, extended the front awnings, and installed a massive hidden drainage system to make the house secure and dry. Inside, new bathrooms and a new kitchen made the upstairs into a very pleasing apartment.
The AHL office was on the ground floor, in two warehouse rooms formerly used to store salt. The salt residue meant that paint wouldn't stick so the walls looked "distressed" all the time.
House 110 Chantabouly District Vientiane is a house project developed by Chantabouly District Vientiane, House 110 Chantabouly District Vientiane at Vientiane has the following facilities: garden and parking.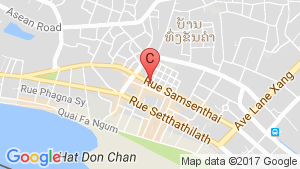 Other projects nearby
There are a number of other House developments located in the area of House 110 Chantabouly District Vientiane including:
Room types / prices
There are 1 houses for sale in House 110 Chantabouly District Vientiane available from $165,000
3 Bedrooms
-
For sale: $ 165,000 (1 unit)
no units for rent